This 9 part blog post series discusses along with graphs the essence of my book Retire Secure! For Same-Sex Couples: Live Gay, Retire Rich.
Retire Secure! for Same Sex Couples: Live Gay, Retire Rich quantitatively compares various courses of action. For those who don't want to read through the explanation and detail, just looking at the 9 graphs could provide critical information with a minimum of reading effort. Please be aware that the recommendations beneath each figure will be advantageous in most situations, but not for everyone.
Starting Social Security Benefits At 62 Years Old vs. 70 Years Old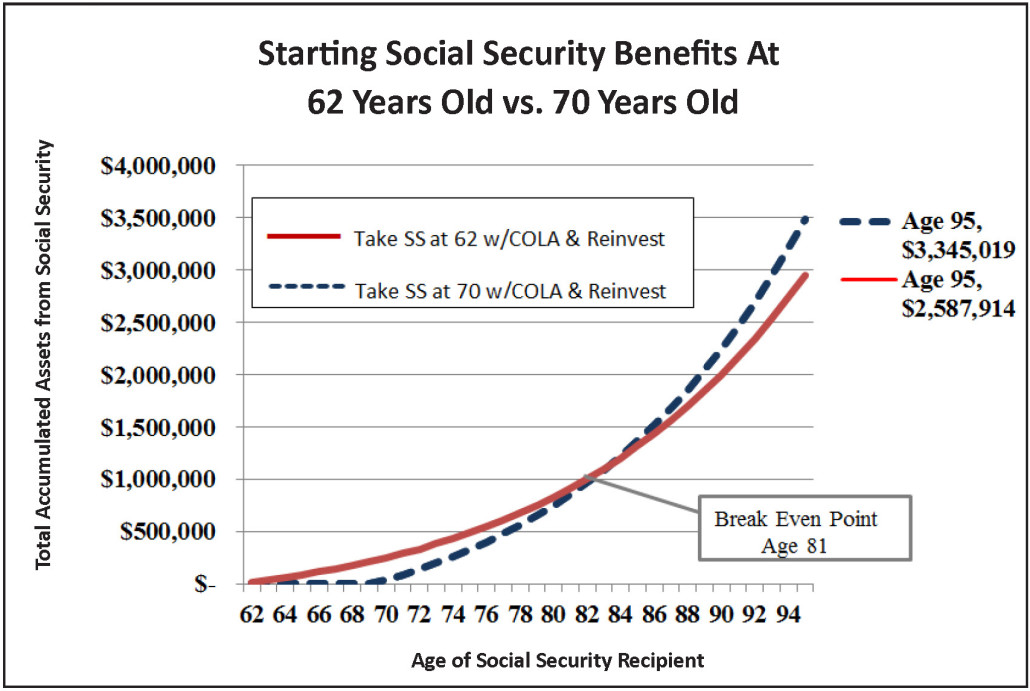 Independent of getting married, it's better to wait until 70 to take Social Security than electing to take Social Security at 62.
The graph shows the total of all Social Security benefits received, plus interest, by two different people with identical earnings records. One begins collecting Social Security at age 62 and the other begins collecting at age 70.
Your benefit will be 76% plus the cost of living adjustment larger if you wait until age 70 to start collecting Social Security, as compared to starting at 62. The longer you live, the more you may need that larger benefit.
http://outestateplanning.com/wp-content/uploads/2013/04/langefinancial2-300x124.jpg
0
0
James Lange
http://outestateplanning.com/wp-content/uploads/2013/04/langefinancial2-300x124.jpg
James Lange
2015-02-27 20:22:13
2015-02-27 20:22:13
The Essence of Retire Secure For Same-Sex Couples - Part 5