Lange Financial Group, LLC, Helps
Same-Sex Couples Plan Taxes and Estates Post-DOMA
Pittsburgh-Based Company Launches Website, Hosts Radio Show, Day-long Workshop for Pennsylvania Same-Sex Couples
Pittsburgh – November 19, 2013 – The U.S. Supreme Court ruling that declared the Defense of Marriage Act (DOMA) unconstitutional in June of this year has created many uncertainties for gay couples, particularly those in states like Pennsylvania that do not recognize such unions. While this ruling does not specifically decide the overall constitutionality of same-sex marriage, it does declare that for federal estate tax purposes, a marriage cannot be narrowly defined as solely between a man and a woman.
WEBSITE FOR SAME-SEX COUPLES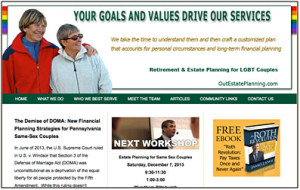 According to James Lange, a best-selling author, Certified Public Accountant, attorney and president of Pittsburgh-based Lange Financial Group, there are opportunities for Pennsylvania same-sex couples to take advantage of the new law in such areas as Social Security planning, income tax planning and estate planning. "Even with the Supreme Court ruling DOMA unconstitutional, many same-sex couples still have to navigate estate planning hurdles to ensure that their loved ones are protected in the event of death or incapacity," said Lange. To help couples think through these hurdles, Lange has re-launched www.OutEstatePlanning.com, a resource for same-sex couples. Established in 2002, the site is the oldest running estate planning website for same-sex couples in Pittsburgh. This reimagined online resource now includes updated articles, relevant news links and information on upcoming radio shows and financial workshops of interest to members of LGBT communities.
EVAN WOLFSON TO APPEAR ON THE LANGE MONEY HOUR RADIO SHOW
On the December 4th edition of The Lange Money Hour radio show, broadcast live on Pittsburgh's KQV-AM 1410 and streamed live at http://www.kqv.com, James will welcome Evan Wolfson, attorney, gay rights advocate, former Lambda Legal Director, and founder and executive director of Freedom To Marry. Evan was included in Time magazine's 100 Most Influential People in the World in 2004. The two former high school classmates will discuss the challenges faced by same-sex couples and their families. "On this show, we are going to turn the focus away from our usual topics of finance and planning and concentrate on the civil rights battle going on in our country and how that impacts the lives of same-sex couples living in Pennsylvania and other states without marriage equality," said Lange. "Without the more than 1,100 federal rights conferred on heterosexual married couples, same-sex couples who cannot legally get married have a lot of work to do. It's a big undertaking, but it's not impossible – and the right planning will ultimately ensure one's family is the most secure it can be." The show broadcasts Wednesday, December 4th at 7:05 p.m. EST and re-broadcasts on Sunday, December 8 at 9:05 a.m. EST.
DAYLONG WORKSHOP SERIES DECEMBER 7, 2013
On Saturday December 7th, Lange's firm will host a series of workshops on "Estate Planning for Same-Sex Couples." The daylong event will be held at the Wyndham Pittsburgh University Center-Oakland.
– The first two-hour workshop, "Who Says You Can't Control From the Grave? How Same-Sex Couples Can Use Trusts to Protect Themselves and Their Families," is offered at 9:30 a.m. and will cover trust planning, the total return trust which is particularly well suited for some same-sex couples and strategies to avoid probate.
– The second two-hour workshop, which begins at 1:00 p.m., "The Demise of DOMA: New Financial Planning Strategies for Pennsylvania Same-Sex Couples," will cover strategies that same-sex couples should consider to enhance their retirement and estate plans. This workshop is based on an article written by James Lange, accepted for publication in the winter 2014 issue of The Pennsylvania Lawyer Magazine. The emphasis will be on income tax planning, Social Security planning and estate planning. Topics will include the benefits available to couples married in other states, but residing in Pennsylvania, how DOMA affects spousal and survivor Social Security benefits, and strategies to structure wills, trusts, and retirement planning in accordance with today's laws and in anticipation of the evolution of these laws.
– The final half-hour workshop "What's a Better Investment Strategy: Active Investing or Passive Investing with Index Funds?" begins at 3:15 p.m. and will cover critical investments concepts and an objective discussion highlighting the differences between active and passive (index) investment management.
Those interested in attending one or more of the workshops should RSVP by calling Lange Financial Group, LLC at: 412-521-2732.
About James Lange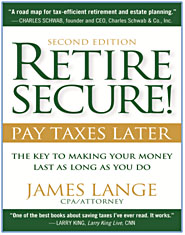 James Lange, CPA/Attorney is a nationally-known Roth IRA and retirement plan distribution expert. He's also the best-selling author of the first and second edition of Retire Secure! and The Roth Revolution: Pay Taxes Once and Never Again. With over 30 years of experience, Jim and his team have drafted over 1,800 wills and trusts with a focus on flexibility and meeting the unique needs of each client.
Jim's recommendations have appeared 30 times in The Wall Street Journal, 23 times in the Pittsburgh Post Gazette, The New York Times, Newsweek, Money magazine, Smart Money and Reader's Digest. His articles have appeared in The Journal of Retirement Planning, Financial Planning, The Tax Adviser (AICPA), and other top publications.
To learn more, or sign up for their newsletter, visit www.paytaxeslater.com or www.outestateplanning.com.