This 9 part blog post series discusses along with graphs the essence of my book Retire Secure! For Same-Sex Couples: Live Gay, Retire Rich.
Retire Secure! for Same Sex Couples: Live Gay, Retire Rich quantitatively compares various courses of action. For those who don't want to read through the explanation and detail, just looking at the 9 graphs could provide critical information with a minimum of reading effort. Please be aware that the recommendations beneath each figure will be advantageous in most situations, but not for everyone.

Benefits of Spending After-Tax Savings before IRAs and Other Retirement Assets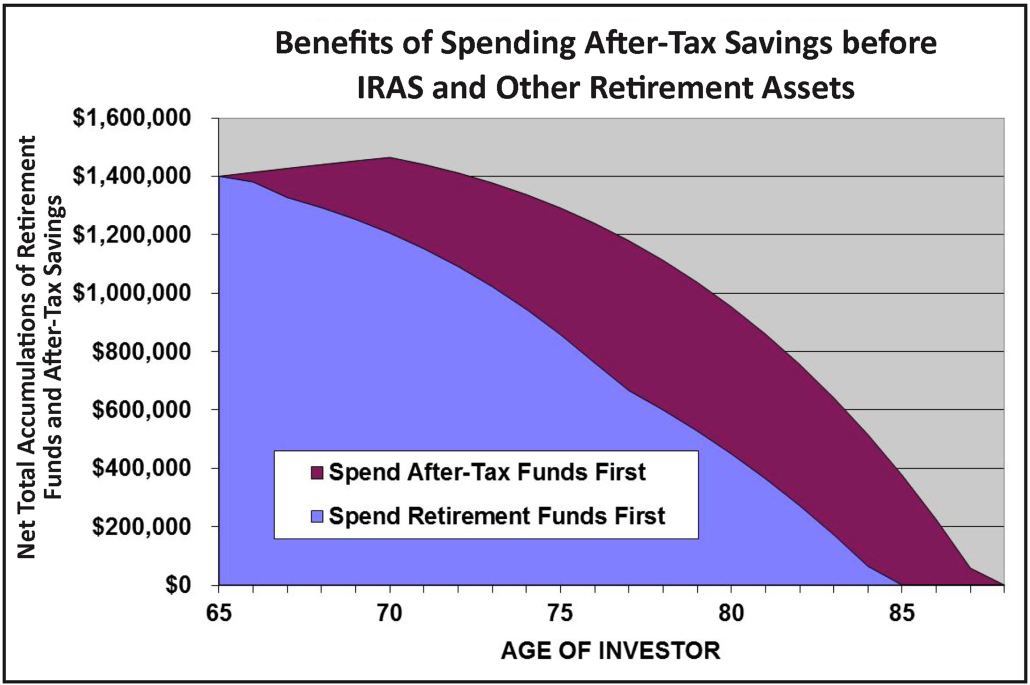 It's generally best to spend assets in this order:
1) After-Tax Savings
2) Traditional IRA and Retirement Assets.

Of course at age 70 you will have to take money out of your IRA. Given a choice, however, you should spend your after tax savings first. You will have more money if you keep your money growing tax-deferred for as long as possible. Don't Pay Taxes Now, Pay Taxes Later—when you are retired in the distribution stage.
Stay tuned next week where I'll discuss Inheriting an IRA From a Spouse vs. an Unmarried Partner.  If you are interested in seeing if you qualify for a free consultation please fill out the form on this page http://outestateplanning.com/what-we-do/ or give us a call at 412-521-2732.
– James Lange

http://outestateplanning.com/wp-content/uploads/2013/04/langefinancial2-300x124.jpg
0
0
James Lange
http://outestateplanning.com/wp-content/uploads/2013/04/langefinancial2-300x124.jpg
James Lange
2015-01-08 20:37:01
2015-01-08 20:40:56
The Essence of Retire Secure For Same-Sex Couples - Part 2